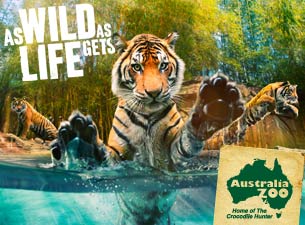 I love animals and looking at animals and hanging out with them and petting them and eating them. I realize that saying that I like to eat them might seem like a contradiction with the other stuff I said, but the way I see it, animals are eating each other all the time and I'm just jumping on the food chain with them. Sure, I'm joining up at the top of the food chain, but at least I am there.
I also don't really like the responsibility of owning pets. You gotta feed a thing; love it, train it, and keep it alive. There's daily recurring responsibility there, which is my least favorite kind of responsibility. It's a lot like having a kid, if you could get away with feeding that kid the cheapest food and not sending them to school.
That means my options for hanging out with animals is a bit limited. Sure, I can go to the dog park and try to borrow other people's dogs, but that's only a little bit less creepy than hanging out at the playground and hoping to borrow other people's kids. Also, it would seem that I very much think of kids and dogs in the same vein and I'm sure that means something about me as a person.
So, one of my best animal bonding options is the zoo. Zoos are a conflicting place. On the one hand, zoos are there to care for endangered animals and raise awareness and support education. Your admission dollars are supporting those efforts and you can feel good about it. On the other hand, zoos are animal prisons for animals that didn't even commit any crimes. I don't know what kind of crimes animals can get into, but seriously if you arrested a monkey for something, I want to see it when you slap on the cuffs. Please.
I've been to plenty of zoos in my day, but never one in Australia and I've never been to a zoo that claimed to be THE zoo of any one country. (Just now, I had to stop and google 'America Zoo' too see if anyone had been so bold. The closest would be ZooAmerica.)
The Australia Zoo is situated in the hinterland of the Sunshine Coast in Queensland and is probably best known for being the home base of the Crocodile Hunter himself, Steve Irwin. It is often considered one of the best zoos in the world. Crocodile Hunter was my jam 15 years ago, so all of this was a big sell for me.
Basically, I walked around with some friends all day talking pictures and now I'm going to rate and review each of the animals. It would be so funny to me if a snake heard that I thought he was shitty, so it made him rethink his whole career as a reptile. I have a feeling that snakes rarely read reviews, much like filmmaker Uwe Boll.
I don't remember what this guy is called but he is literally doing nothing. I didn't pay 50 bucks for you to lounge about, buddy.
3/10 + 1 bonus point for cool skin markings – 4/10
Otters were my favorite animal at the zoo as a kid, right after monkeys. They're like little dog snakes that play in the water all day. They cuddle each other and hold hands when they are floating so they don't lose each other. These guys just played and cuddled each other the whole time I was there. Rousing success
8/10
This is some kinda big python. He didn't move at all. We are about to have a big theme of me being bored with cold blooded creatures. (Like my ex-wife! LOLOLOL)
(I've never been married.)
2/10
This bad boy likes to say "Hello, Occa" in a funny voice and hang out. Bonus points for being the only animal that wasn't stuck up all day and actually tried to have a conversation, even if it was a bit one-sided.
8/10 + 1 point for talking – 9/10
This dude was in the same enclosure as the cockatiel, but instead of talking and being a cool bro, he just went and hid under this log. You need to step up your confidence game. Knuckles never hid under logs.
3/10
Probably the most active reptile of the day. Not only does he look like a for real dinosaur, but he came all the way up to the glass just to hang out. My friend Laura chanted 'Mammals, Mammals' in his face, but he didn't seem to mind.
9/10 + 1 point for zen-like calm – 10/10
That last big iguana was in with these other two big guys that never did anything but loaf around on this rock. Do something with your lives!
2/10
There were a bunch of alligators in a row. Big surprise! They were sleeping.
4/10
This dude just running around wild. I tried to pet him right until I saw a sign saying that I wasn't allowed.
5/10 for wild encounters
Looney Tunes led me to believe that tasmanian devils spun around in tornados, ate everything, and appeared on countless t-shirts in the 90s. This guy did literally none of that.
2/10
Dingos are just dogs! Sure, they're a cool red dog, but they're pretty much just dogs. I don't need to be at a zoo for this
4/10 because if they were dressed up as old ladies playing bingo, I would never stop telling the story. Dingo Bingo
Cassowaries are pretty neat dinosaur throwback thingees. This girl came around and fed them chunks of chicken. You'd think a bird eating birds might be weird for them, but cassowary don't casso-care-y. (I'm sorry)
7/10
Koalas pretty much just sleep all day, but they look good while they do it, unlike those lazy-ass reptiles. I got to pet one.
9/10
I got to pet some of these pigs in the 'Kid's Zoo'. I don't know why it's the Kid Zoo anyway. All the kids were out of their cages and mostly getting in the way.
7/10
The famous 'Animal Planet Crocoseum'! It's like a Coliseum, but for Crocodiles!
Just full of stupid ibises I can see every day in the trash for free.
1/10
There are a couple of places in the zoo that are designated 'Roo Heaven,' where the kangaroos are pretty free range and you can just walk up and pet them and hang out and the roos are cool about it. You can't really tell but this wallaby is pretty little and totally let me pet him and be rad while he dug in the dirt.
8/10
The tiger show is mostly a guy giving the tiger milk and meat for doing tiger stuff. He climbed a tree for a steak, which I would also do if someone told me a steak was in a tree, so I feel like we can all relate.
7/10
They do a croc show where they try to feed fish and chickens to these crocodiles while telling you stuff about the crocodiles. It would have been way more exciting if the croc managed to get ahold of the girl's arm and have a bite of that or something, but I can understand why they might not want to do that very often.
5/10
This bird's just hanging out on a lil roo's back! Cool bros!
8/10
Meh, I don't know. Some bird.
4/10
It's hard to see, but there are two birds staring each other down across a pond here. They were doing it for a really long time. Some would say they are still staring at each other, to this very day.
6/10
I'm guessing this is a former baby roo (Joey is the proper word, but personally I hate being called Joey, so I wouldn't do it to someone else.) trying to climb back in the pouch and nurse. You might also notice that the baby is almost as big as the mom at this point. It's like a 13 year old boy still taking showers with his parents. Like Danny Glover said, "I'm getting too old for this shit."
10/10
This little buddy was running around the aviary. He cool
5/10
This chill little bro sat there calmly while everyone gave him a pat.
7/10
A multicolored parrot eating seeds on a sunny afternoon. I'm sure that's a metaphor for something.
6/10
Kookaburras look funny, talk funny, and eat meat. Birds after my own heart
7/10
I know wombats are naturally inclined towards digging, but this guy was really going at it and keeping it stylish to boot.
8/10
This snake represents all the snakes in the snake house. Spoiler alert: They just sit there.
1/10 x 20 snakes – 20/10 which is actually quite high
I just think 'fierce snake' is a sweet name.
4/10
Tortoise was walking around and making decent time for a classic slowpoke. I think the word 'tortoise' has some unnecessary letters in it, but I won't hold it against him. He didn't invent English.
8/10 – plus he did a big poop and we learned what that looks like – 9/10
Couple of mackaws eating fruit and making noise
7/10
Imagine if you had a nice young turtle that did well in school and spent time with its grandma. Now imagine that turtle fell in with a rough crowd and listened to punk rock and got a bunch of tattoos. That's what I imagine happened to this guy.
7/10
This was a big open plain called 'Africa' with some zebras, giraffes, and rhinos in it. The animals were all eating and hanging out being nice to each other.
8/10 because I kept singing Toto's Africa to myself
Australia Zoo is very focused on reptiles and native Australian wildlife, which makes sense. I could really have gone for some more cuddly stuff. Also, there were no monkeys and I love monkeys the most.
6/10 until there's monkeys